Gafic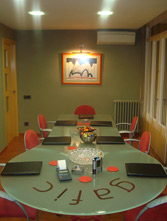 The consulting firm was founded in the surroundings of Barcelona, its professional activity starting in 1985, and has been established as a Sociedad Limitada (public limited company) since 1991. Nowadays, it is located in the business area of Premiá de Mar. next to Barcelona. Both the human team and the facilities have consolidated throughout more than 25 years, improving and increasing the services and creating partnerships with other professional offices of the metropolitan area of Barcelona.
Our idea of organization as a multidisciplinary office enables our customers to have all their consulting needs centered at the same environment, ensuring the swift resolution of its planning and problems, as well as the maximum confidentiality and coherence of their matters.
Multidisciplinary organization
The company offers commercial, tax, accounting, labour, accounting control and insurance agency consulting services, and it has a wide range of products both for companies and individuals.
The consulting firm has external collaborators including lawyers, engineers, computer technicians and other companies of the sector, necessary and essential to cover all the areas affecting the business environment.
In order to deliver such services, we have technical, training and IT support that enables us to provide the services we have been hired for with the required efficiency and swiftness at all times.
Team learning is the process of aligning and developing the team's ability to create the results desired by its members. It builds on the discipline of developing a shared vision. Also built with mastery.
The increasing complexity of regulations ruling the commercial, tax, labour, legal and accounting control environments make specialization, continuous training and teamwork essential. Therefore, the company has a team with long experience in the sector.
Accounting and fiscal consolidation..
Finally, the publication of the book "Consolidación contable y fiscal. Operaciones entre empresas del grupo. Supuestos prácticos" ("Accounting and tax consolidation. Operations within companies of the group. Case studies") of the editorial Centro de estudios Financieros (Centre of Financial studies) by one of the founding partners of GAFIC, SL.P. is to be stressed. More information in the following link: